Hip
Both the upper and lower body rely on the hips for range of motion. Injuries and daily wear and tear take their toll on this vital joint, and it is not uncommon for people to experience hip pain at some point in their lives. When that happens, you can rely on the skilled orthopedic specialists at Baxter Regional Medical Center to provide you with the care and assistance you need. Our orthopedic team includes some of the most well-trained and experienced orthopedists in the region. The level of personal attention they provide patients creates a comfortable relationship that makes it easy for patients to discuss their problems and find a solution.
Baxter County Hip Care
A Solution That Meets Your Needs
At Baxter Regional, it is our practice to provide patients alternative treatments to surgery unless their condition absolutely requires it. Bone and muscle conditions can often be relieved with less invasive methods such as:
Medication
Physical therapy
Pain management
Guided exercise
Integrated medicine
If it is determined that surgery is the best course for your treatment, and you agree to the procedure, our staff has access to state-of-the-art technology that make open operations as safe as possible. Our joint replacement care team looks after patients through every stage of their operation, including the post-op rehabilitation phase.
Ball-and-Socket Joint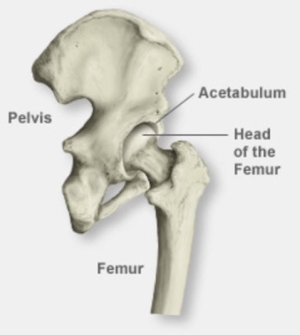 The hip is a ball-and-socket joint where the head of the femur articulates
with the cuplike acetabulum of the pelvic bone.
The head of the femur and the socket are covered with a layer of smooth
cartilage which cushions the joint, and allows the bones to move on each
other with very little friction.