BRMC Wins AHA Diamond Award
Category: News
Posted On:
Written By:

Baxter Regional Medical Center
Baxter Reginal Medical Center (BRMC) and the BRMC Auxiliary were among the recipients of the Arkansas Hospital Association's 2018 Diamond Awards and AHAA Awards.
BRMC received a Diamond Award in the Publication category for The Regional, a semi-annual community newsletter curated by the BRMC marketing team in partnership with Brooks Jeffrey Marketing, Inc. The Regional provides the North Central Arkansas and South Central Missouri communities with updates on health care news and services offered at BRMC and Baxter Regional clinics across 11 counties. Click here to read the latest version of our newsletter.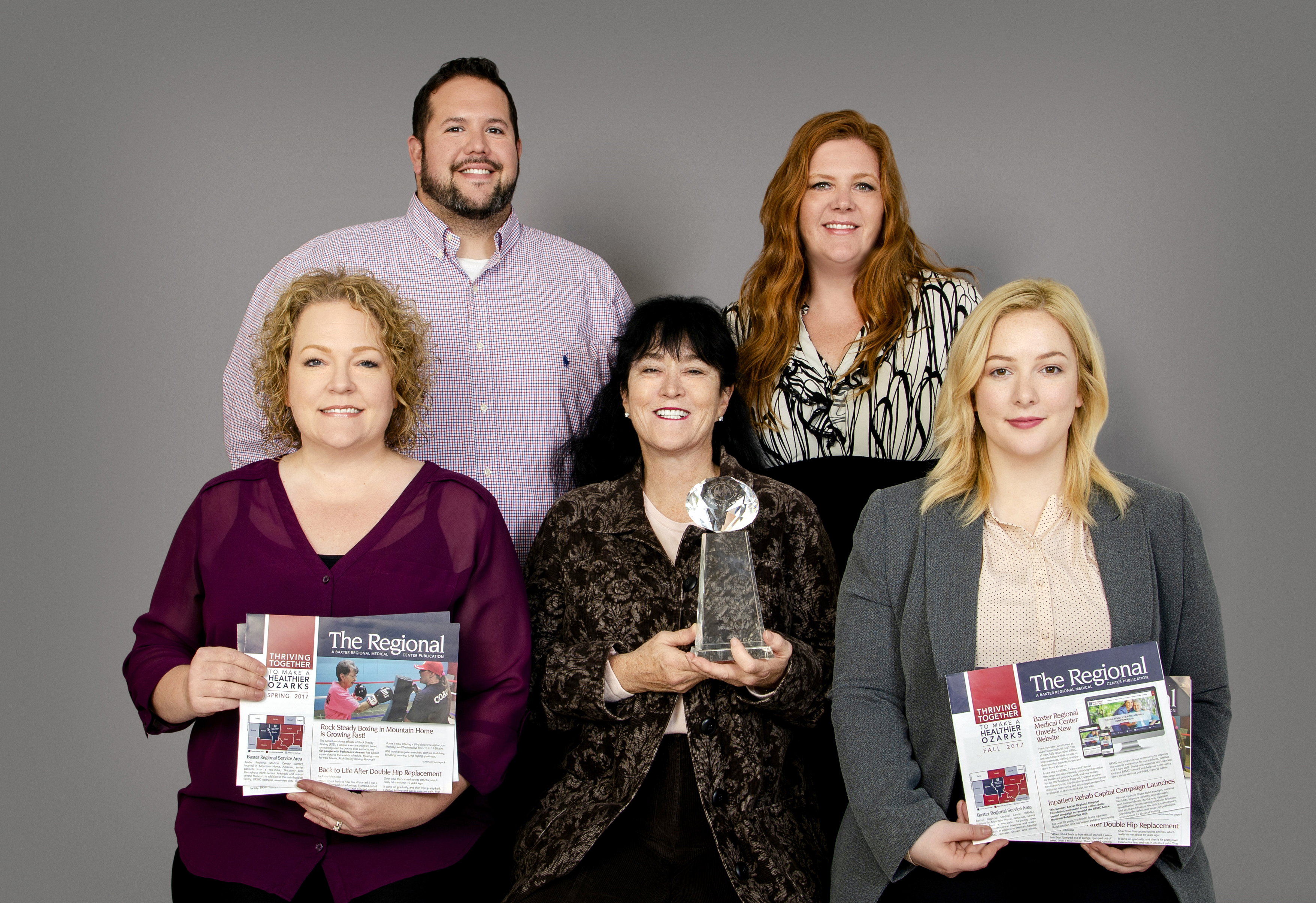 The Baxter Regional Medical Center (BRMC) Marketing team and Brooks Jeffrey Marketing, Inc. partnered to create and publish The Regional. Pictured (from left): Adrienne Koehn, Graphic Designer, BRMC; Tobias Pugsley, Director of Marketing, BRMC; Jodie Elizabeth Jeffrey, Co-Owner/Senior Account Executive, Brooks Jeffrey Marketing; Dedrah Walk, Art Director, Brooks Jeffrey Marketing; Ashley Arnold, Marketing Specialist, BRMC.
The AHA Diamond Award is designed to recognize excellence and encourage improvement in the quality, effectiveness, and impact of healthcare marketing and public relations in the state of Arkansas. Judging for each entry was based upon goals and objectives, the audience to whom the entry was directed, reasons for choosing the format, frequency and quantity, and portions that were created internally. Awards were presented at the Arkansas Hospital Association 88th Annual Meeting and Trade Show in Little Rock on October 4.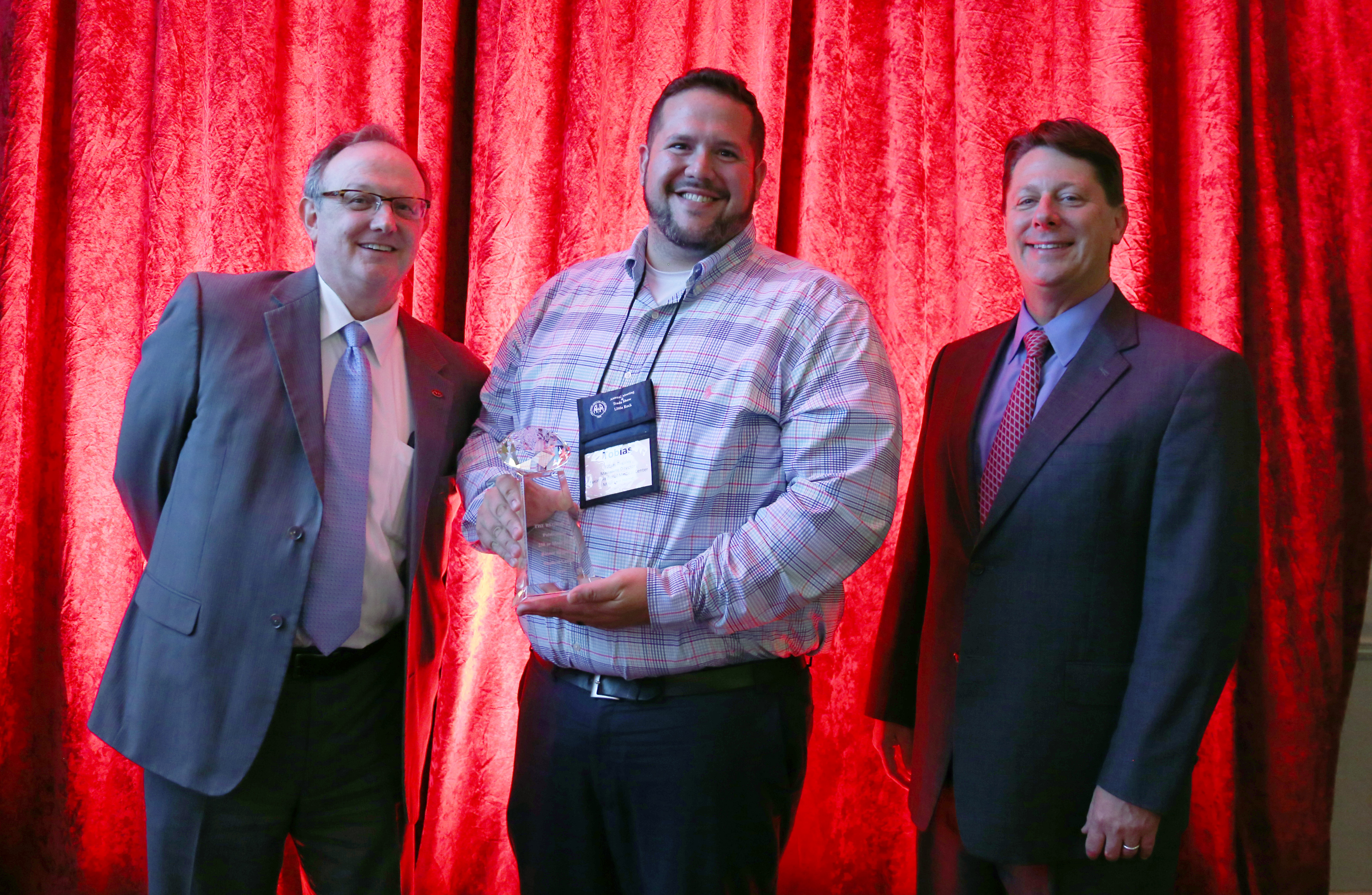 Tobias Pugsley, Director of Marketing, BRMC (center) accepts the AHA Diamond Award from ASHMPR President Bruce Trimble (left) and Bo Ryall, AHA President and CEO (right) on behalf of Baxter Regional Medical Center.
The Arkansas Hospital Auxiliary Association (AHAA) held their annual meeting in conjunction with the AHA meeting. The BRMC Volunteers' Auxiliary received the AHAA 5 Star Award of Excellence. Auxiliaries from around the state were asked to complete 33 questions, showing their participation within their local communities and AHAA State projects. Based on the points awarded, auxiliaries received an award rating from two stars up to five stars. Hundreds of BRMC volunteers give their time and energy day in and day out to help provide excellent care and a welcoming environment to our patients, so we are glad to see them recognized as the 5-Star team that we've always known they are. To learn more about our Auxiliary and volunteer opportunities at BRMC, click here.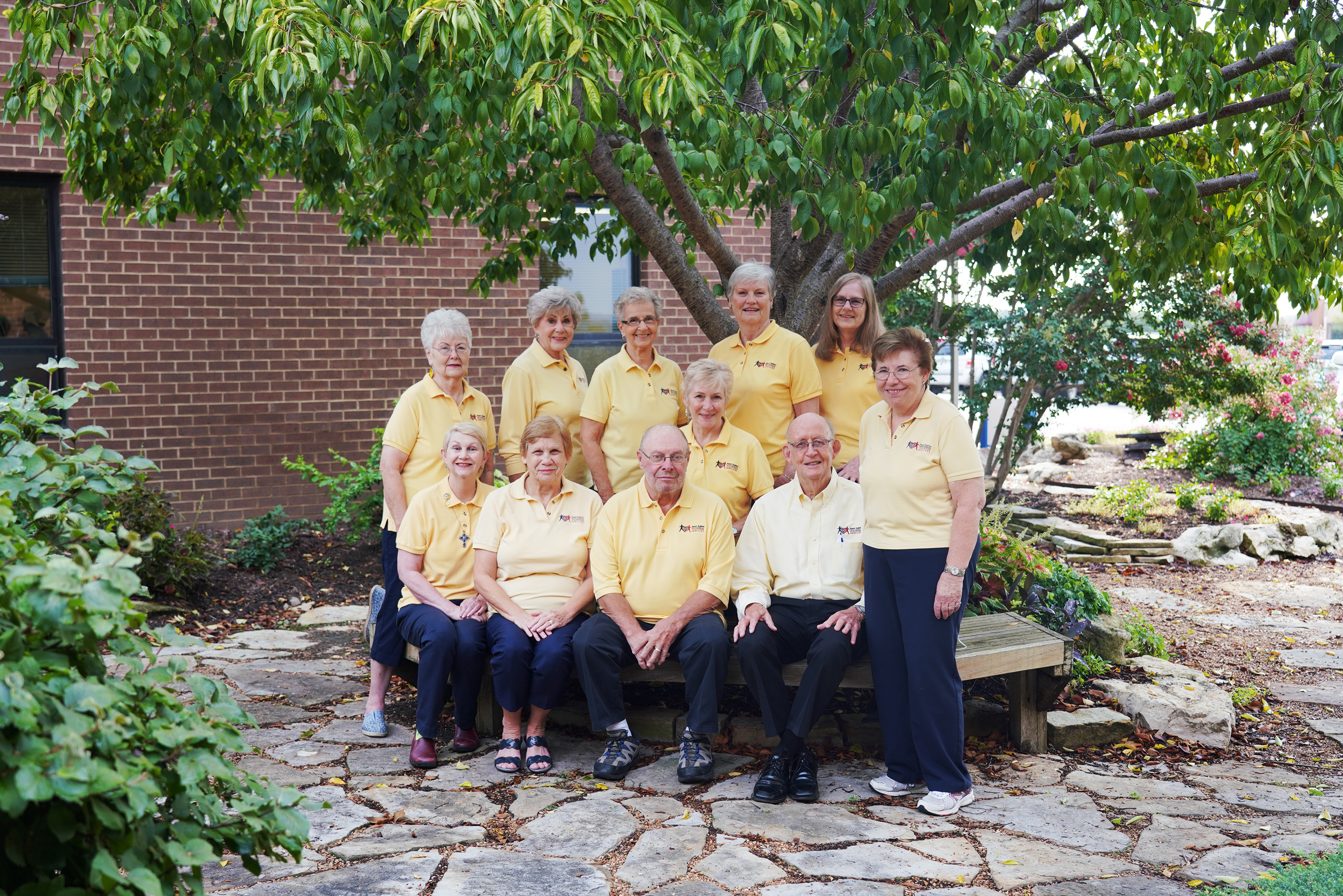 2018-2019 BRMC Auxiliary Board members: (sitting, from left) Jean Adams, Advisor; Louise Pitts, Vice President; Rich Jannick, President; Jim Whalen, President Elect; Barb Klein, Bookkeeper; (standing, from left) Judy Shaffer, Ways and Means Chair; Geneva Edwards, Corresponding Secretary; Carol Chetnik, H.O.P.E. Chair; Maureen Rozelle, Recording Secretary; Carolyn Hannon, Scheduling Chair; and Joan Young, Treasurer.