Baxter Regional Medical Center closes COVID-19 surge unit
Scott Liles, Baxter Bulletin | Tuesday, March 17, 2021
Baxter Regional Medical Center closed its COVID-19 surge unit on Friday. The hospital opened the 32-bed unit in September to address the Twin Lakes Area's growing number of COVID-19 hospitalizations, which peaked at 35 on Thanksgiving.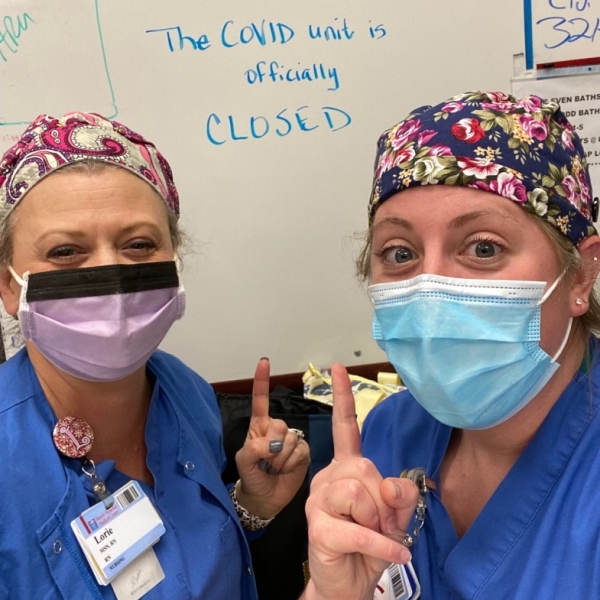 BRMC nurses Lorie Davidson and Alyssa Potts snapped a selfie of the ward's closing Friday, posing for the camera in front of a whiteboard that declared, "The COVID unit is officially CLOSED."
"When I saw that photo, I teared up a little," Shannon Nachtigal, Baxter Regional's chief nursing officer said Tuesday. "I mean, that was it. Hopefully we've turned a corner now."
With the COVID-19 surge unit closing, BRMC patients with active COVID symptoms are now being treated in the the hospital's ICU. Baxter Regional has 17 ICU beds, including 10 negative pressure rooms that prevent the air inside the patient's room from escaping and are ideal for the treatment of a disease like COVID-19.
The COVID surge unit's last patient was sent home Friday, leaving the hospital without a single confirmed COVID-19 patient for about 20 hours, hospital officials said. BRMC picked up a couple of COVID patients over the weekend, and had five COVID patients as of Monday. Of those five, two were being discharged that day, and a third tested positive for the coronavirus after being admitted for another medical issue.
"So, we're really treating two COVID cases," Nachtigal said.
Statewide COVID hospitalization numbers peaked around 1,300 patients and are now down to around 250 hospitalized across the state.
"I think it's a combination [of things leading to the decline in hospitalizations]," BRMC president/CEO Ron Peterson said. "I wish we knew exactly because then we could keep it down. But I think some of it has to do with mask wearing and some has to do with the holidays being over and past. There were some natural isolations — like that whole week where we had the snow and very few people got together — and I think the vaccinations are definitely starting to help.
Should the hospital see a sharp spike in COVID patients, it can reopen the COVID-19 surge unit without much effort.
"Everything is already there, it's really just a matter of flipping a switch," Peterson said. "But we're really hoping we don't have to do that."
Baxter Regional called on its pool of float nurses to staff the COVID-19 surge unit. Float nurses are not assigned to a specific unit and instead "float" around the hospital as needed each day.
The hospital was fortunate to have a pool of nurses they could temporarily reassign to the COVID surge unit instead of hiring additional employees, Peterson said.
"Otherwise we would have been trying to find nurses from all around the country and they would not be used to our system," he said. "It just causes all sorts of issues and problems."
Taking care of patients in the COVID unit was a total team effort, said Dale White, the hospital's director of operations for its float pool/house supervisors.
"Respiratory therapists, foodservice workers, maintenance, housekeeping — everyone was involved," he said. "Physicians, nurses, everyone had to pitch in to make it work."
Peterson said that all the hospital employees that worked inside the COVID unit should be commended for their work.
"There was a fear factor involved with COVID, especially early on. If I had asked you, 'Hey, you want to go to the COVID unit?' A week ago you would have probably had some reservations about it," he said. "But someone from environmental services, someone from food services, someone from maintenance — they all had to step foot in there and take care of the patients."
Hospital employees entering the negative pressure rooms of COVID-19 patients had to wear several layers of protective equipment, including two sets of gloves, a gown, face mask and a "capper" — a combination helmet/face shield that contained its own oxygen supply.
The capper makes additional noise as it pumps air into the helmet, adding another layer of complexity to the situation.
"It's hard for the patient to hear me. It's hard for me to hear the patient," said Madison Martin, a registered nurse in the hospital's float pool. "We're yelling at each other, sometimes, trying to hear one another."
The face masks also make it harder for patients to see the faces of those caring for them.
"I had a patient tell a doctor, 'I've been here two weeks and no one has smiled at me.' We were smiling, but they couldn't see that under our masks," White said.
"You come into the rooms with all this equipment on, and it looks like you're from outer space," Peterson said. "It's hard to have that human touch and that human relationship. I think our nurses did an excellent job of making sure those people got help and were supported."