Baxter Regional Celebrates Nurse Practitioner Week
Category: News
Posted On:
Written By:

Baxter Regional Medical Center
Baxter Regional Medical Center is proud to celebrate our team of nurse practitioners during National Nurse Practitioner Week, November 10 - 16, 2019. There are more than 270,000 nurse practitioners licensed to practice in the United States, with an additional 30,000 NP students graduating each year. We are proud of the more than 50 nurse practitioners serving in our hospital and community clinics, and we are so thankful for their dedication to providing excellent care for every patient, every time.
In celebration of National Nurse Practitioner Week, Baxter Regional hosted a luncheon on Tuesday, November 12 for the Advanced Practice Registered Nurses (APRNs) serving in our community. An APRN is a nurse who has obtained at least a Master's Degree in Nursing, including Nurse Practitioners and Clinical Nurse Specialists.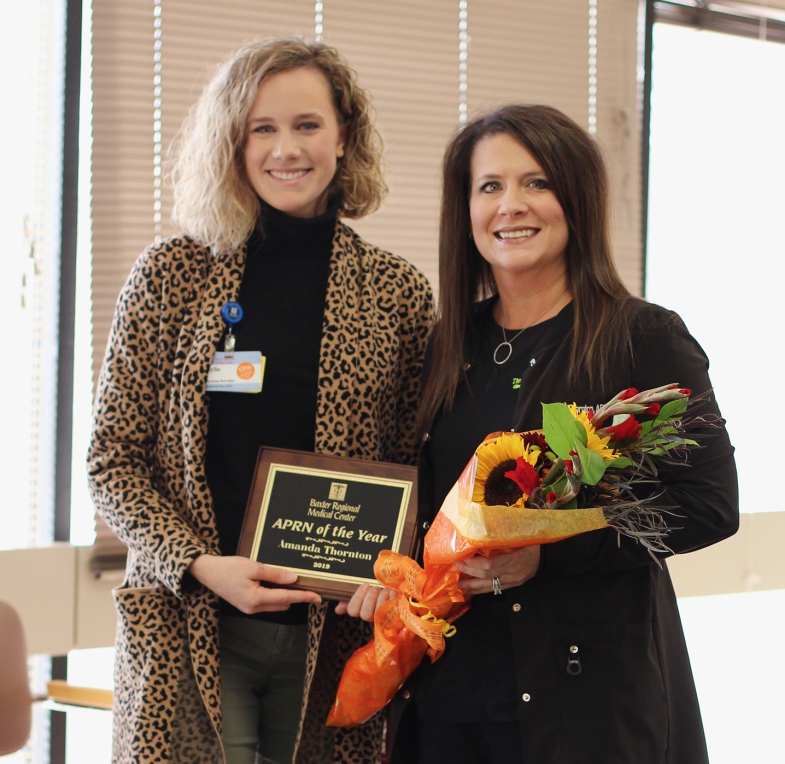 Rylie Barnes, Physician and Advanced Practice Recruiter, Baxter Regional Medical Center, announced Amanda Thornton, APRN, The Center for Women, as the Baxter Regional 2019 APRN of the Year.
At the luncheon, Amanda Thornton, APRN, was named APRN of the Year after being nominated by her peers. A certified Women's Health Nurse Practitioner, Amanda has been in practice at The Center for Women for 15 years. She is a founding member and past president of the Schliemann Center for Women's Health Education Advisory Board, originally known as the Baxter Regional Women's Health Advisory Board. She is also a member of Sigma Theta Tau-Gamma XI, Association of Women's Health Obstetric & Neonatal Nurses, National Association of Nurse Practitioners in Women's Health and Baxter Regional PHO.
In her free time, Amanda enjoys spending time with her husband and two children, and she is actively involved in the Calico Rock United Methodist Church.
Congratulations, Amanda, and happy National Nurse Practitioner Week!