CNO Shannon Nachtigal Achieves National Nursing Designation
Category: News
Posted On:
Written By:

Baxter Regional Medical Center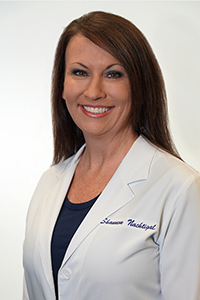 Baxter Regional Medical Center congratulates Shannon Nachtigal, MSN, RN, NEA-BC, BRMC Vice President/Patient Care Services and Chief Nursing Officer, for achieving the national nursing designation of Nurse Executive, Advanced – Board Certified.
The American Nurses Credentialing Center (ANCC) Nurse Executive board certification examination is competency based and provides a valid and reliable assessment of the clinical knowledge and skills of the nursing profession's highest level of leader. The National Commission for Certifying Agencies and the Accreditation Board for Specialty Nursing Certification accredits this ANCC certification, which is reserved for only those in chief nursing officer positions and extends for a term of five years.
Raised in Peel, Arkansas, Shannon is a graduate of the University of Arkansas at Little Rock School of Nursing and earned a Master of Science in Nursing Administration from Chamberlain University. Having served as BRMC VP/CNO since 2015, she has been a nurse for 29 years, with 26 years spent in various roles at BRMC. As a role model for all nurses, Shannon leads the way for leadership and others to follow. Congratulations, Shannon!