Baxter Choice Awards Presented to Nurses
Category: News
Posted On:
Written By:

Baxter Regional Medical Center
The fourth annual Baxter Choice Awards were recently held as part of the BRMC Nurses Week celebration. The Baxter Choice Awards are peer nominated awards to honor RNs and LPNs at BRMC for exuding the BRMC I CARE values of Integrity, Compassion, Accountability, Respect and Excellence. There were 70 nominees and 21 award recipients. Awards were presented by Shannon Nachtigal, MSN, RN, NEA–BC, BRMC VP/Chief Nursing Officer.
James Dabney, RN, from ICU, won the Servant's Heart Award. This award is presented annually to a BRMC nurse that sets an excellent example for the rest of the nursing staff, inspires coworkers and excels in nursing.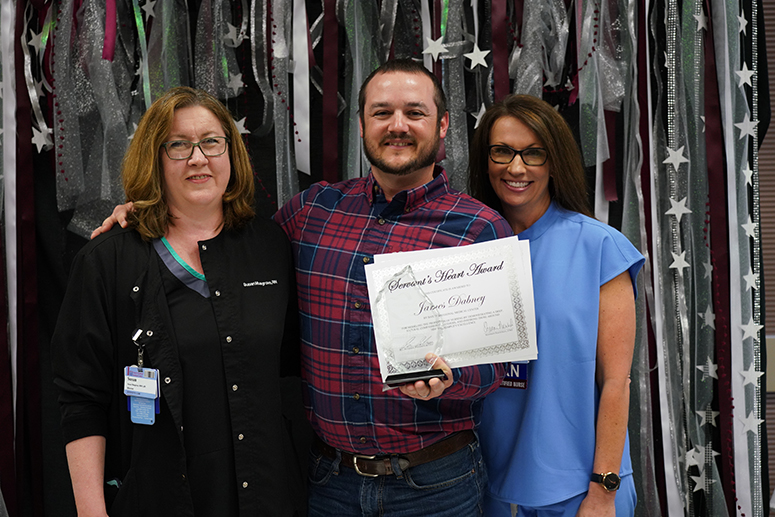 Susan Musgrove, MSN, RN, Director, ICU; 2018 Servant's Heart Award winner James Dabney, RN, ICU; and Shannon Nachtigal, MSN, RN, NEA-BC, BRMC VP/Patient Care Services and Chief Nursing Officer.
Congratulations to the 2018 Baxter Choice Award Winners:
Brenda Walker, Endoscopy
Tiffany Colbert, Endoscopy
Joan Covas, Endoscopy
Tiffany Pizzimenti, Adult Psych
Roberta Bradshaw, Float
India Cook, Surgery
James Dabney, ICU
Michelle Jackson, ICU
Kristie Story, ICU
Jessica Hollowell, ICU
Brittany Easley, ICU
Misty Gould, ICU
Pam Chambers, ICU
Jennifer Pepin, 3W
Mary King, PACU
Tammy Mears, Home Health
Trieneke Shrable, Women & Newborn Care Center
Haley Tyler, Women & Newborn Care Center
Kelsie Lovan, Women & Newborn Care Center
Melissa Spurling, Women & Newborn Care Center
Charita James, Women & Newborn Care Center
Additional nominees include:
Charlyce Weeks, 3W
Patty Horn, 3W
Darla Cheek, Acute Inpatient Rehab
Robert Podsialik, Acute Inpatient Rehab
Matthew Gregory, 4 South
Heather Shockley, BRMC Gastroenterology & Advanced Imaging
Sara Ott, BRMC Gastroenterology & Advanced Imaging
Shannon Davenport, BRMC Gastroenterology & Advanced Imaging
Angela Dinges, BRMC Medical Specialists
Teresa Evans, Continuity of Care
Francy Attaway, CSICU
Kaye Grozis, CSICU
Kevin Dahl, CSICU
Margo Sisk, CSICU
Melissa Tollen, Baxter Regional Heart Clinic
Shannah O'Dell, Education
Brittany Kullman, Cline Emergency Center
Stacey Ferretti, Employee Health
Audrey Sadler, Endoscopy
Jo-Gina Pipkin, Endoscopy
Kim Komorn, Endoscopy
Jackie Reuscher, Hospice
Jessica Dwyer, Interventional Pain Management
Katrina Scott, Interventional Pain Management
Mary King, PACU
Sarah Slater, PACU
Tammy Penka, Quality
Paula Bennett, Surgery
Ashley Thomas, Wound Healing Center
Eleanor Davenport, Wound Healing Center
Kylee Claypool, Wound Healing Center