David Fox Named New BRMC Chief Operating Officer
Category: News
Posted On:
Written By:

Amanda Williams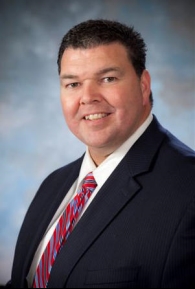 David R. Fox has recently accepted the position of Chief Operating Officer at Baxter Regional Medical Center in Mountain Home, Arkansas.
David began his professional career in healthcare as a certified Nuclear Medicine Technologist, and prior to joining Baxter Regional Medical Center, has served in management and executive leadership positions with Northwest Texas Hospital in Amarillo, Texas, Saint Francis Hospital in Tulsa, Oklahoma, Baptist Health in Little Rock, Arkansas, and CHI St. Vincent in central Arkansas. He earned his Bachelor's degree from the University of Central Arkansas in Conway and his MBA from Oklahoma City University in Tulsa, Oklahoma.
David brings with him many years of professional accomplishments in healthcare. His background experiences include leading strategic initiatives, overseeing large capital project, managing construction and renovation improvements, leading initiatives in quality, safety, patient satisfaction and operational throughput, financial turnaround while enhancing key stakeholder engagement with hospital staff and physician relationships. He is a board certified healthcare executive and double board fellow of both the American College of Healthcare Executives and the American Healthcare Radiology Administrations Association, where he served on the national board for six years and as the past President for the association.
David has actively served on multiple philanthropic boards, community and charitable activities including the Central Arkansas Heart Association, Habitat for Humanity, St. Joseph's Center of Arkansas, Catholic Charities, The Call of Central Arkansas and the Arkansas Pregnancy Resource Center. He most recently has been a parishioner with Christ the King Catholic Church in Little Rock where he served as CTK Confirmation Co-Director, CTK Parish Councilman, and CTK Visioning Committee Chairman.
David's executive experience with his ebullient personality and engaging leadership will be a great addition to Baxter Regional Medical Center.
David and his wife, Kristie, have seven children, Lauren, Matthew, Katelyn, Joseph, Corena, Tony, and Bernie and two grandchildren, Ava-Grace and Raney.